This article is designed for: User Type: Admins or Managers Device: Web Browser

With RosterElf, if an employee wants to request leave, they can do it directly from their account. Admin or Site Managers can then view and action any pending leave applications. Once an employee has submitted a leave request, management is notified by email, and a notification will appear on the dashboard under the Leave block.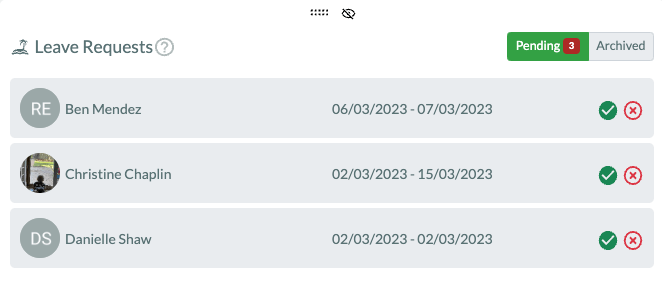 From the dashboard, click on the request. A popup window will appear with the details of the leave request.
Info Tab
You will see the information about the leave request, including the employee's name, dates, type of leave, length of leave and any comments. You can change the type of leave before approving it if the type of leave is incorrect.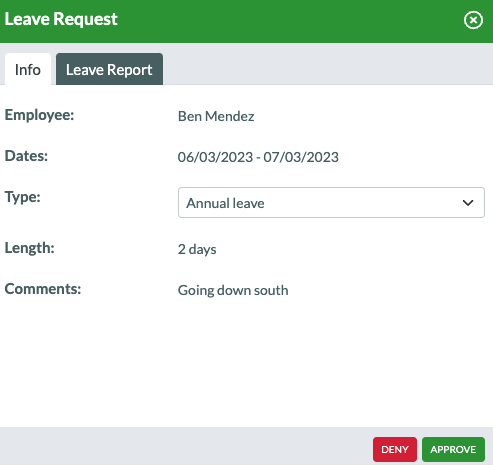 Xero Balance Tab
For Xero integrated customers only
This tab allows admins and managers to see a live sync of available leave from Xero. So they can decide whether or not to approve the leave request. Be mindful that the leave totals in Xero only update once leave is processed in payroll.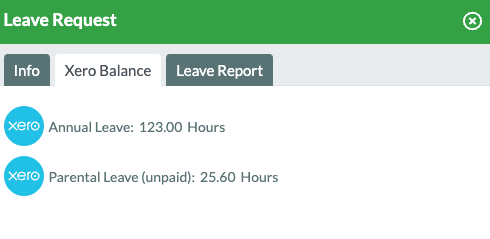 Leave Report
The leave report allows admin and managers to see who else is on leave to assist you with your decision on approving leave.

Example of someone else being on leave when approving another staff member's leave request
Once you have assessed the leave request, click Approve or Deny. Once you do, the staff member will be notified about your decision, and the request will be moved from the Pending tab to the Archived tab.
From here, the leave will appear in the Payroll screen during the Pay Cycle(s) that the leave falls into, where it can be processed and sent to your payroll software.
Send To Xero
For Xero integrated customers only
Once a leave request has been approved, if your Xero account is linked to RosterElf, you will see the below Send to Xero button. If you have the correct permissions to approve leave requests in Xero, you can push the leave straight to Xero. If you don't have the required permissions, the leave request will appear in Payroll during the Pay Cycle(s) to which that leave request relates. An Admin or Payroll Manager with the correct Xero permissions will be able to manage the leave request on their end.
To Send to Xero, select the Leave Type and the number of Units in hours.