This article is designed for: User Type: Admins or Managers Device: Web Browser (Computer)
Alt: Managing Shift Swap Requests from a Smartphone
This feature needs to enabling from the Settings >Roster > Shift Swaps tab before shift swaps can occur.
Key Points
Employees can request shift swaps up to 48 hours (default) before their shift commences.
Once a shift swap is requested, RosterElf's perfect match system will (if possible) find an available and qualified replacement for the shift and then notify managers.
The shift swaps block is on the top right of the dashboard.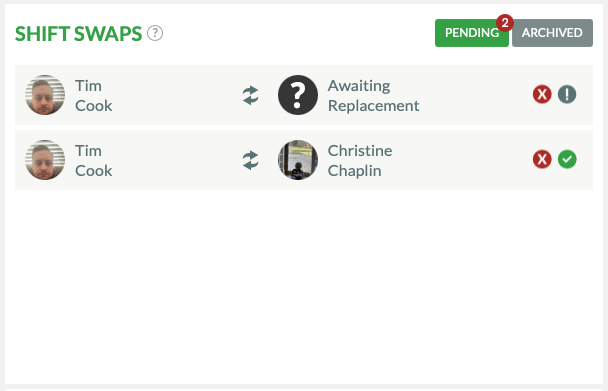 As you can see in the image above, there are two shift swaps at different stages. 
The First one requested by Tim is yet to have another staff member accept the shift, while his other shift swap is pending approval as Christine has confirmed that she wants the shift.
Steps
1. From the dashboard, click on a shift swap you want to review. A popup window will appear with the information about the shift swap request.
2. Click Approve or Deny. Both staff members get notified of the outcome. Alternatively, you can select a replacement for the shift swap request, by clicking Replace.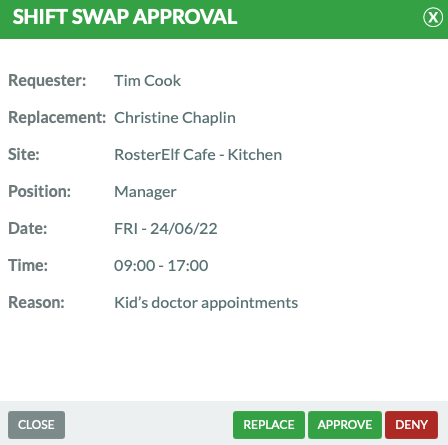 Choosing a replacement staff member
The shown list is the staff that are qualified within RosterElf to work in this position
Staff who are available and not already rostered on will show up as green
Staff showing up as red are unavailable on that day or already rostered.
Steps
1. You can choose from the staff shown in green to confirm the shift swap. (Note: you can also select All Employees and choose any of your other staff - be mindful that All Employees lists all staff regardless of skill and availability)
2. Once you have chosen, click the Select and Notify button in the bottom right corner of the popup window, and RosterElf will inform both staff members of the swap.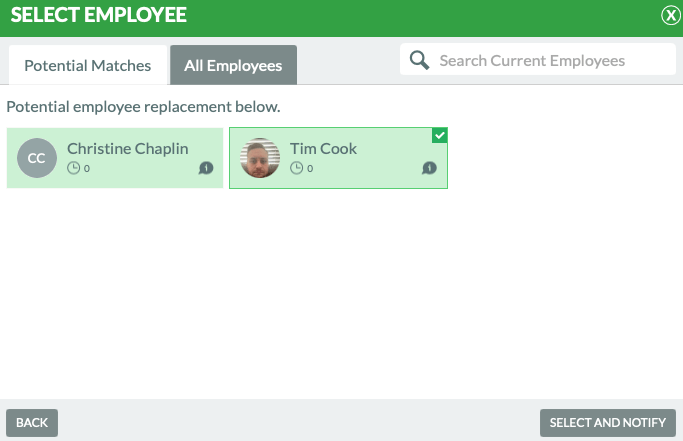 Selecting a staff member for replacement when there is no replacement assigned
1. Click on the unassigned shift swap. A popup window will appear with the details of the shift swap.
2. You have the option to deny the shift swap.
3. If not, click the Find Replacement button, and the same window as above will appear where you can select from the staff who are showing up as available (green).
4. Click Select and Notify, and RosterElf will inform the staff members of the swap.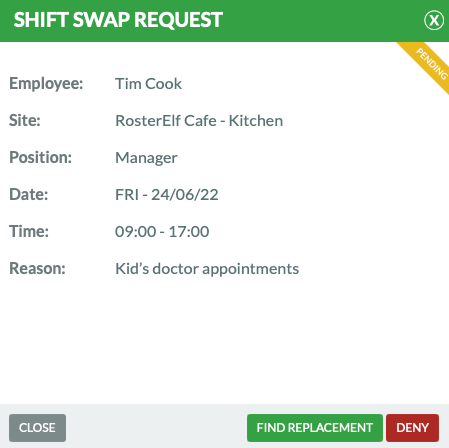 Once you have actioned the shift swaps in the pending tab of the shift swaps block, RosterElf will move them to the archived tab.