This article is designed for: User Type: Admins or Managers Device: Web Browser
Templates are a fantastic way to save time and avoid rostering mistakes weekly. Having the shifts already in place takes the thinking out of the weekly task of creating a roster.
We recommend adding the shifts for the full-time/permanent part-time staff working the same weekly shifts. Then, you can add in any Unfilled/Open Shifts. Unfilled and open shifts are essentially the same when it comes to Roster Templates. They are shifts you have created without assigning a person to them. You can create these shifts and publish the roster or save the roster in your templates. The only difference is how RosterElf handles the shifts once you publish the roster which we will cover at the end.
1. To add an unfilled/open shift to the roster, click on the Plus (+) button in the middle of the timeline to bring up the select position window.

2. Select the Position you want to create the shift for. Then, instead of selecting an employee, click the Leave Unfilled or Add Open Shift button in the bottom left-hand corner of the popup window.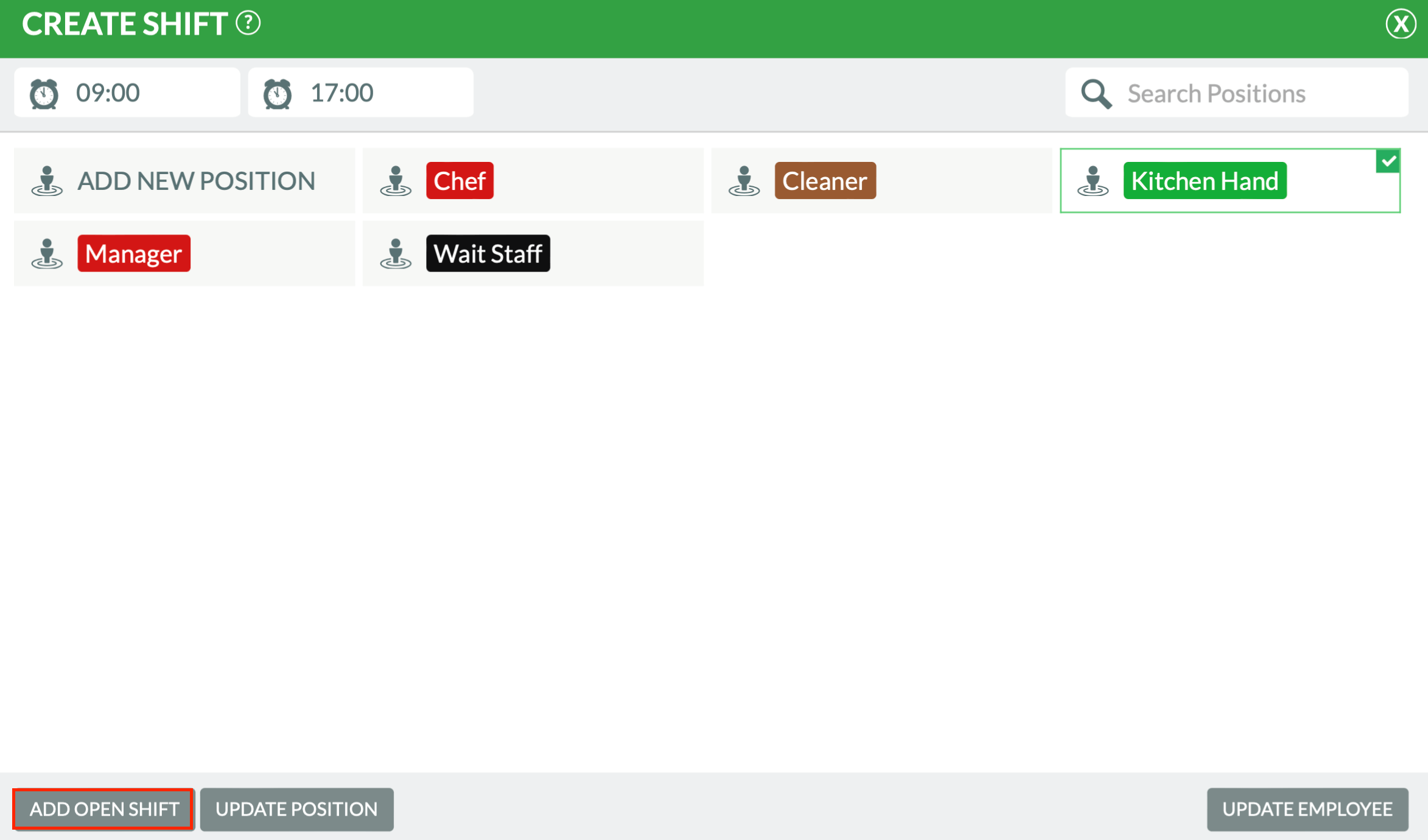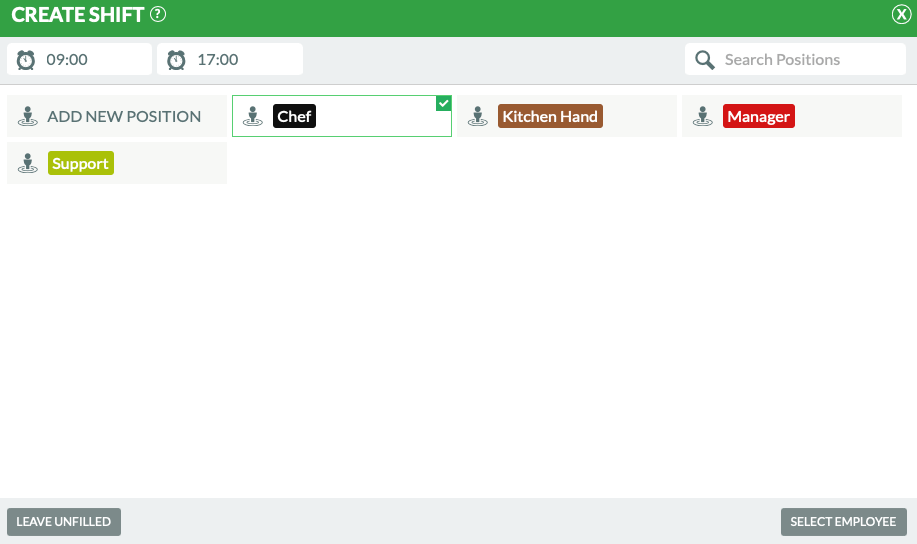 The shift will land on the timeline where you can adjust the hours as usual.
3. Once you have created your roster, you can click the Save as Template button in the bottom right corner and give it a name. You will then be able to reuse this roster at any time in the future by clicking Upload Template.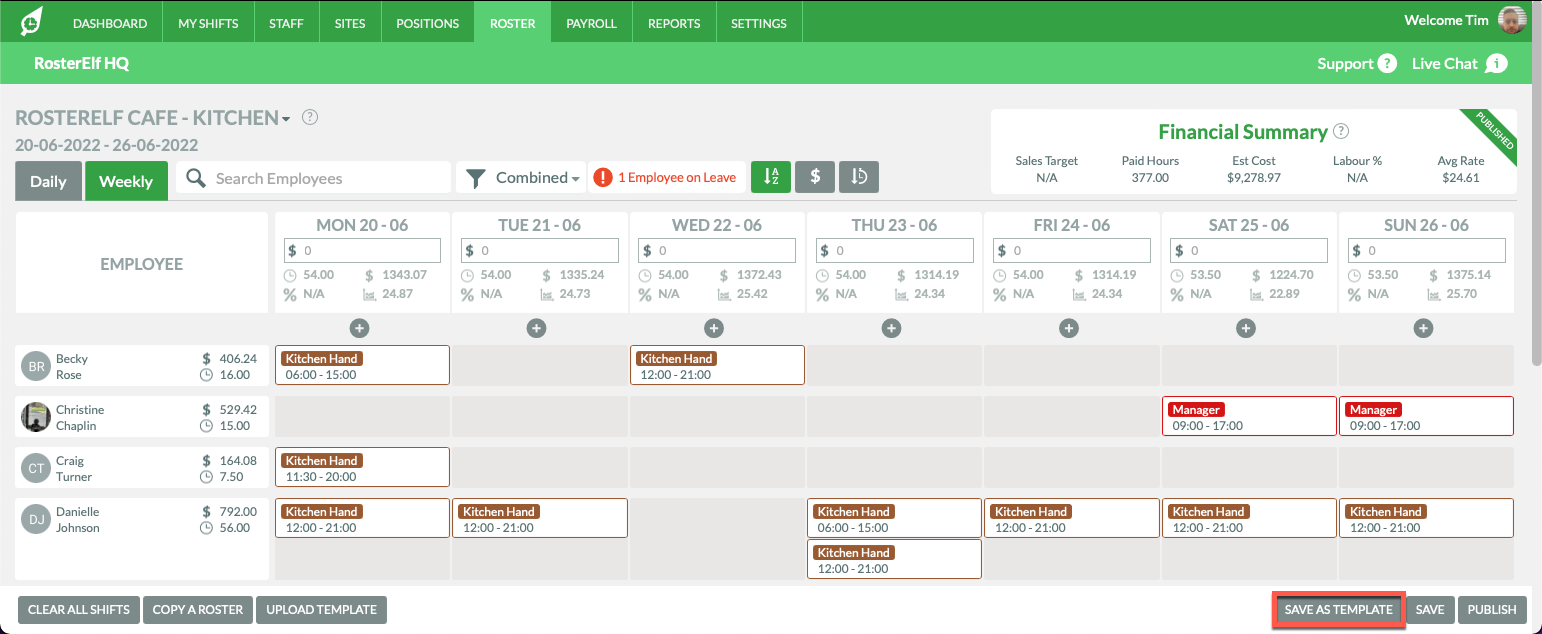 4. When you are ready to publish your roster, you can click Publish. This is where the differences between Unfilled and Open Shifts becomes clear.

If you publish a roster with unfilled shifts, those shifts will remain unfilled until a manager comes back to the roster and fills the shift. To fill the shift with staff members, click the ? in the middle of the shift, and it will take you to the select employee page. Click from the available staff showing up as available (green).

If you publish a roster with open shifts, an email is sent to all suitable staff that can work the position on that site. Staff can nominate themselves for the shift which are then approved or denied by the manager, either in the dashboard or via email notifications. You can also fill the shift manually from the dashboard or the same way described for unfilled shifts.