This article is designed for: User Type: All Users - Employees, Admins and Managers Device: Smartphone
Alt: Requesting Leave from a Browser
This article covers requesting leave. Once you have submitted leave, RosterElf will notify the managers. If one of the managers declines your request, RosterElf will advise you via email. Alternatively, if approved, you will be marked as unavailable to work during the leave period and notified by email.
1. Tap My Shifts at the bottom of the RosterElf app screen.
Tap the Leave tab along the top right of the screen. You can view or delete any future leave requests in this list.
3. Click the Plus (+) icon (top right) to add a new request.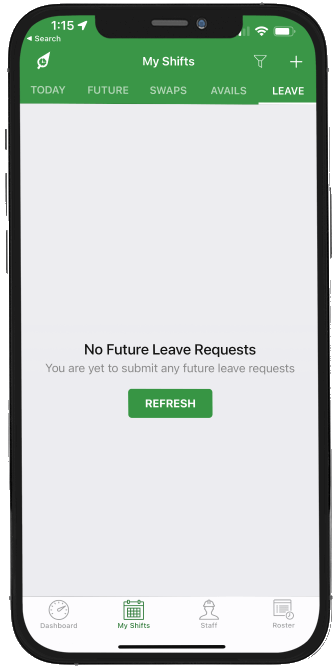 4. Add the date range and reason for the leave request.
5. Tap Save.