This article is designed for: User Type: Admins Access: Web Browser
To learn how to change your subscription plan, including Annual Billing, click here.
Customers who want to save on their RosterElf subscriptions can pay for RosterElf annually.
Which plans support Annual Billing?
The two plans that allow annual billing are RosterElf Lite and RosterElf Pro. Due to how RosterElf Flexi is billed, it does not support annual billing.
What is the difference between Prepaid and Postpaid Employees?
Your account is paid upfront for the following 12 months (prepaid) with annual plans. In contrast, our monthly plans are charged at the end of the month after your usage (postpaid).
RosterElf believes your subscription should be flexible. Because the number of employees in your business may vary, we allow you to select how many employees you want to prepay for annually. Any additional employees in your account will remain on the monthly rate and be charged postpaid.
For example, if you have a business that fluctuates between 10-20 employees during the peak and off-peak periods. You may commit to 10 annual employees, which you will be invoiced for and require up-front payment. You will receive a 20% discount on your account's ten annual employee seats. As you head into your peak season and are hiring more staff and adding them to your RosterElf account, you will pay for those additional staff every month at the end of each month.
What happens if I exceed the number of seats on my Annual Plan?
If you add more users than what was paid annually, you will receive a warning, as shown below. Once you add additional staff, we send a monthly invoice for the extra users until the renewal of the annual subscription, at which point all staff will be billed annually. The staff billed monthly will be charged at the monthly rate until the annual renewal.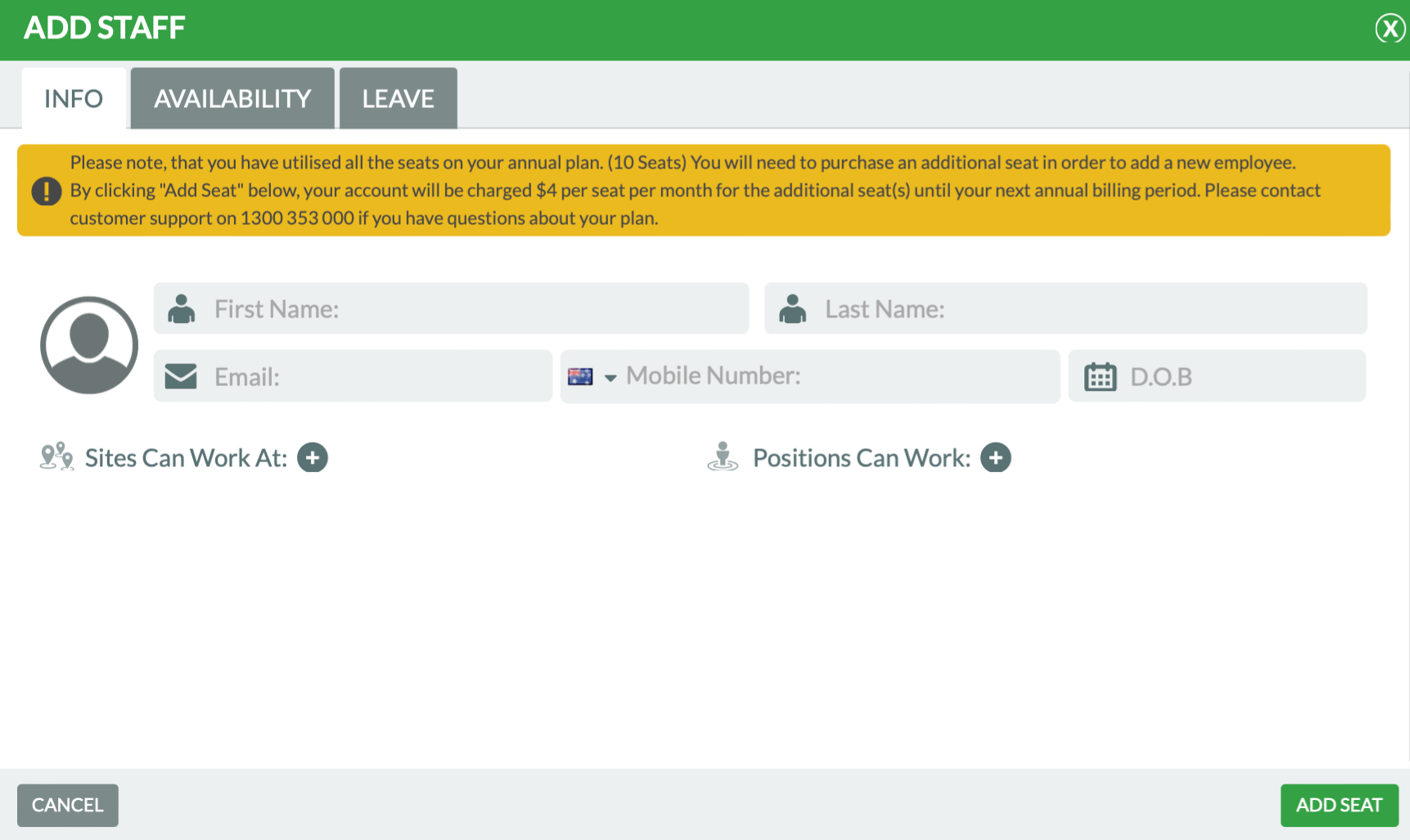 What happens if someone resigns and we employ a replacement?
If you have ten seats on your annual plan, a staff member leaves. Once you delete that staff member, you will be using nine out of your ten seats. The new staff member added to the account will be filling the licence for the old staff member. No additional charges will apply.
What happens if I'm on an annual RosterElf Lite plan and change to RosterElf Pro?
Your account will be credited for the pro-rata balance of your RosterElf Lite plan, and a new 1-year subscription for Pro will be commenced.